Arnab Bishnu Chowdhury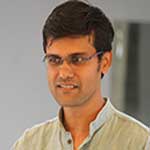 Know Your Rhythm
Arnab is the founder of 'Know Your Rhythm' (KYR) – a training programme that helps participants discover their Musicality and their own sense of Rhythm – in life and work. Through joyful immersive exercises, KYR creates 'conditions' for participants to experience Aha! Moments, raising empathy, teamwork and productivity.
At SLI, KYR weaves exercises with paradigms of 'culture' and Musicality found across agri-culture, management, rural development, folklore, livelihood and climate change.
KYR has engaged several thousands of teachers (KG onward) with young learners, special educators, govt. officials, women self-help groups, youth, managers, university professors, policy makers, scientists, therapists, patients, nurses, doctors and seekers from all walks of life at conferences and workshops in India, Austria, France, Belgium, Russia, Thailand and China. Papers have been published in Music & Medicine Journal, International Journal of Pharma & Bio Sciences.
KYR was selected among the 8 training programs worldwide to be presented as a Pre-Congress seminar at the 14th World Congress for Music Therapy at University of Music & Performing Arts, Vienna.
Arnab is a composer – musician – trainer – explorer of Consciousness with Music as medium, a third generation from a family of Indian Classical musicians, he offers Composition, Training and Therapy services.